Why Local Elections Matter: Housing. Elect People Who Will Stop Corporate Vulture Funds

national | politics / elections | feature

Thursday May 23, 2019 22:18

by 1 of indy
Case Study: Dundrum - Sandyford Area.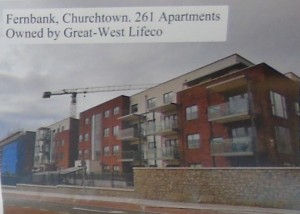 These local elections on Fri 24th May are more important than ever. The reason is that up and down the country Fine Gael with help from Fianna Fail have allowed corporate vulture funds through various government breaks to them to buy up valuable tracts of land and to buy up thousands and thousands of apartments and homes. And the result is they are screwing people for rent. In this feature a case study for South Dublin of how they corporate takeover has occurred and driven prices sky high and priced out ordinary people from ever buying a house or apartment. Found out what is happening in your council area and how FG and FF councillors encourage this madness because it is happening in towns and cities all over the country.
On councils up and down the country, FG and FF councillors in coherts with FG government policy to hand over valuable assets to corporate vulture funds at knock down prices -have allowed this situation to occur all in the name of solving the housing problem. The result is the housing crisis is worse than ever, homelessness is at all time high and young people are being forced to buy houses in towns way beyond Dublin forcing them into long commutes, contributing to our greenhouse emissions, long hours and stressful lifestyles. Many young people now see no hope of ever affording a home and while they are paying huge rents it prevents them from saving any money for a deposit. And house prices themselves are sky high, driving up costs for employers and employess alike.
This is all thanks to FG and FF and it has to stop and must be reversed. If people have any sense they must not vote in any FF or FG candidates or any Independent candidates who are pseudo FF or FG candidates.
To illustrate this crisis the excellent work done by Brian Lesson, Eirigi in the Dundrum Sandyford area to highlight the corporate take-over in that area is described below. People Before Profit have also been active in the area too high-lighting the corporate takeover in the area including pointing out the reluctance of the council to give go-ahead for building social housing on public land in Cherrywood. This is because the councillors want to keep prices high for a private development nearby and having cheaper public housing built at the same time would take away the imperative for people to rent at absurd prices in corporate owned apartments.
Timeline of Corporate Takeover of Housing In just fiver years a handful of private corporations have taken ownership of 2,200 homes in Dundrum, Ballinteer, Sandyford, Stillorgan, Leopardsdown and the surrounding areas. Here's a timeline of how they did it.
2009 Fianna Fail and The Green Party
Fianna Fail and The Green Party establish NAMA and direct it to begin a firesale of homes, offices, shopping centres, land and other assets which were valued at €88,000,000,000 (€88 bn). Foregin Vultures swoop in to buy up heavily discounted homes and sites
2013 Fine Gael and Labour
Fine Gael and Labour introduce legislation to allow Real Estate Investment Trusts (REITs) operate in the state for the first time. The rate of Corporation Tax payable on rental income is set at 0% .
2018 Fine Gael with Fianna Fail Support
Fine Gael with the support of Fianna Fail and Shane Ross designate 'Build to Rent' (BTR) as a new 'asset class'. Laws are changed to allow for smaller apartments and taller apartment blocks -changes that will generate additional profits for corporate landlords.


Housing Fact #1: One in sixteen homes in Rathdown (of Dun Laoghaire Rathdown Council) is owned by a private corporation

Housing Fact #2: The Dundrum Local Electoral Area is the second most expensive place to rent a home in the state

In 2013 no homes in the Rathdown constituency were owned by large corporatioms. Now they own 2,200. Over the same five year period rent across South Dublin area rose by a staggering 70% (based on Daft.ie Rent Reports)

The government claim that corporate-owned Build To Rent housing is part of the solution to the housing crisis but the experience in our community tells a very different story.

In reality, the corporations operate a very aggressive pricing strategy, consistently pushing their rents higher and higher. Traditional landlords then follow suite and also increase their rents.

This aggressive pricing was seen again in February 2019 when the corporation that owns the Fernbank apartments at Notre Dame in Churchtown revealed that it would cost an extortiionate &uero;3,200 per month to rent a three-bed apartment, €2,350 for a two bed and €1,950 for a one-bed.

This is FG and FF policy. To aid and encourage the corporate takeover so that they can screw the population. This is a modern form of British landlords of previous centuries. Do NOT vote these people in again!
Local Homes Owned By Private Corporations
Wyckham Point Block 3, Ballinteer
214 Apartments, Owned by Hibernian REIT

Dundrum View, Dundrum
80 Apartments, Owned by Hibernian REIT

Fernbanks, Churchtown
261 Apartments, Owned by Great West Lifeco

Annavilla Residence, Windy Arbour
54 Apartments, Owned by Ardstone

Grande Central, Sandyford
65 Apartments, Owned by IRES REIT

Beacon South Quarter, Sandyford
225 Apartments, Owned by IRES REIT

Rockbrook Grande Central, Sandyford
81 Apartments, Owned by IRES REIT

Rockbrook South Central, Sandyford
189 Apartments, Owned by IRES REIT

The Forum Sandyford, Sandyford
8 Apartments, Owned by IRES REIT

The Maple Beacon South Quarter, Sandyford
65 Apartments, Owned by IRES REIT

Elmfield, Ballogan Road, Leopardstown
185 Apartments, Owned by Tristan / SW3 / VERT

Vantage, Central Park, Leopardstown
442 Apartments, Owned by Kennedy Wilson

The Grange, Stillorgan
274 Apartments, Owned by Kennedy Wilson

Robin Hill Apartments, Sandyford
52 Apartments, Owned by Cerberus

Total Number of Homes: 2,198
Corporate Takeover Pipeline
Private corporations already own 2,198 homes in Dundrum, Ballinteer, Sandyford, Stillorgan and Leopardstown. Thousands more 'Build To Rent' homes are already in the pipeline for South Dublin. Below is a list of some planned developments.
You will note planning granted for many of these and this is planning permission granted by your councillors. Vote them out.
Beacon South Quarter, Sandyford, IRES REIT
82 Apartments, Planning Granted
The Sentinel Building, Sandyford, Dante
300 'Work-Live' Apartments, Planning Granted
Rockbrook, Sandyford, IRES REIT
430 Apartments, Planning Stage
The Grange, Stillorgan, Kennedy Wilson
260 Apartments, Planning Stage
Carmanhall Road, Sandyford, Avestus Capital
460+ Apartments, Planning Granted
Dundrum Shopping Centre Road, Sandyford, Avestus Capital
This is the large old Dundrum Shopping Centre on the lower end of the main street beside the Luas stop
Potentially several hundred apartments, Hammerson is pre-planning discussion with DLR Council
Cherrywood, New Town, Hines
1,300 BTR Apartments, Under Construction
Total Number of Homes: 3,000+