Eighty-two Percent or Dead?

national | anti-war / imperialism | news report

Monday September 23, 2019 22:28

by ShannonWatch
This blog entry from 16th Sept on the ShannonWatch.org website is reproduced here because while it might seem old news one week late, it will in fact be news to a lot of people since the mainstream just don't cover this, certainly not from the side of peace perspective.

The following was written by Veteran for Peace activist Tarak Kauff who is currently being refused permission to leave Ireland. He is accused of minor offenses linked to the attempt he and Ken MAyers made to inspect a US contracted military plane at Shannon Airport.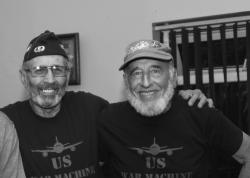 Veteran for Peace activists: Former U.S. Marine Major Ken Mayers and former U.S. Army paratrooper Tarak Kauff
For the past 5 1/2 months, my veteran buddy, former U.S. Marine Major Ken Mayers and myself, a former U.S. Army paratrooper, have been meeting and talking with people about Irish neutrality. Actually, most often, people stop us to talk because they see we're veterans. Some of them have read about us being arrested for exposing U.S. military troops and weapons violation of Irish neutrality at Shannon Airport, or they have seen us on RTE TV. Almost without exception, we find, the Irish people believe in and want Irish neutrality. One poll reported that 82% of the people desire a neutral Ireland. Few perhaps, realize how important that is to the world at large.

I have bad news. Irish neutrality, if not dead, is perilously close to it.

U.S. VP Mike Pence, not a man I would buy a used car from, came here and you might say gave the last rites, or you could also say, put a nail in the coffin of any pretense of Irish neutrality. In Tuesday's Irish Times, Simon Carswell wrote,"Mr. Pence expressed his appreciation for 'the security partnership' between the U.S. and Ireland, particularly the use of Shannon, which has become 'such an important hub for US forces deploying overseas' and for the 'close coordination' between the two countries in 'US military operations around the world'. He thanked the people of Shannon for 'how they welcome our troops here at all times of the day and night and give them a warm Irish welcome either on their way into the fight or on their way home.' "It is not a small matter, said Mr. Pence."

Irish politicians who have sold out to U.S. imperialism, hypocritically talk about Irish neutrality as if it were still a reality. Pence, Trump's batman, in this rare case, was speaking the truth. Irish neutrality for all intents and purposes, is gone. "Such an important hub for US forces deploying overseas," does not sound like neutrality. "Close coordination . . . in US military operations around the world," does not sound like neutrality. Next, Irish sons and daughters will be fighting and dying in America's never ending wars.

There are 4,892,415 people living in Ireland. Eighty-two percent of that is a little over four million people.

Either the people will exert their will on this critical issue of Irish neutrality or start wearing black armbands, but I think four million people ought to be able to demand that Irish neutrality live.

Download the ShannonWatch factsheet 1.13 Mb