Soldier Executes Afghan Civilian Begging for His Life During Live Broadcast on National Television

international | anti-war / imperialism | other press

Saturday September 12, 2020 23:55

by 1 of indy
This is how the empire operates outside of public view. They terrorize the population in Afghanistan
This report from back in March 2020 is about the war crimes committed by the Australian SAS operating inside Afghanistan. Apparently there are there to bring peace and democracy but instead happily terrorize the nation. It is no coincidence that we see draconian and heavy handed police tactics during the Covid crisis from this same Australian government since the current situation simply unmasks something in the power elite that Afghanis clearly have taken the brunt of for many years

The graphic footage, filmed by body cameras worn by the elite troops and broadcast on national television, must lead to the soldiers being tried for murder.

Australians always look forward to celebrating Anzac Day, but this year it will be different because a pall of shame has fallen over our armed forces thanks to a jaw-dropping TV expose aired this week that showed elite Aussie soldiers murdering Afghan civilians in cold blood when they were supposed to be protecting them from the Taliban.
Thanks to whistleblower Braden Chapman, a former army intelligence officer who witnessed the atrocities first hand in 2012, no one can ignore the reality of what happened as the Aussie Special Air Services Regiment (SAS) stormed the dusty villages of Afghanistan in search of those it considered legitimate targets.
Among the alleged crimes, Chapman says he witnessed an army dog handler allowing his charge to chew on the head of a newly-murdered man, another where an elite troop punched a child in the face and a third showing a soldier seemingly in the grip of 'blood lust' firing indiscriminately and throwing thermal grenades from close range into a mud hut occupied by several Afghan combatants.
Then there is the execution of a young, apparently unarmed Afghan man in a quiet wheat field. Shot from a distance of around two meters, his killer seems indifferent to the fact that his act was being filmed.
The full report can be found at the link below. You can also see the program on Youtube. Click on the image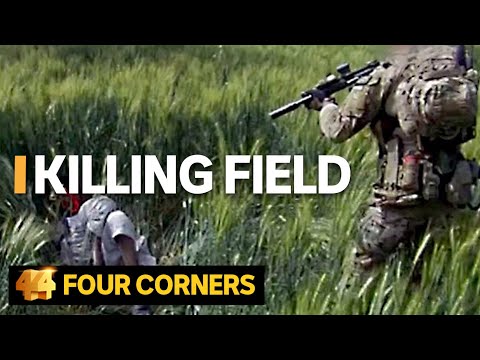 Caption: Killing Field: Explosive new allegations of Australian special forces war crimes