Episode 3: The Effect of Lockdown on Irish Businesses and an Update on Mask Effectiveness

national | health / disability issues | news report

Tuesday December 01, 2020 11:34

by 1 of indy
Episode 3: The Healthy Debate
The Healthy Debate series is now on Episode 3. It is brought to you by the Irish Inquiry who are helping to facilitate a debate about Covid-19 and all related aspects that should be happening on RTE and other main stream outlets but is not.

Episode 1 and 2 have already been widely viewed and very successful. In this episode the discussions turns to the effect of lockdown on Irish businesses. This has huge ramifications for the wider Irish society and economy given that most jobs are in the smaller business sector and many of these are of course Irish businesses. We are looking at a massive wave of closures and businesses going bust and this is already leading to masses of people unemployed. The market share of many of these firms is disappearing upwards towards the global corporations who are doing extremely well in these times as people are switching to shopping online for all sorts of things.
See previous episodes [Ep.2 - The Healthy Debate_Shaping the Covid-19 narrative & the failings of PCR testing] and [Ep: 1- Health Freedom Ireland independent inquiry into the corona situation in Ireland]

The Healthy Debate Ep.3 - Discussing masks and the impact of Covid on small businesses Watch and like on Youtube https://www.youtube.com/watch?v=T3QeR4oDNC8 Watch and like on Facebook https://www.facebook.com/TheIrishInquiry/videos/2858857064343264 Watch and share on Twitter https://twitter.com/IrishInquiry/status/1331342134687907840?s=20
Our Health. Our Society. Our Future
Facilitating conversations on the health of our society through freedom of speech and freedom of conscience. In a series of conversations with both experts and witnesses we are going to explore how the current Corona-measures came about and what impact they had and continue to have on the Irish population.
The healthy debate will empower people with the information they need to make the right choices.
The healthy debate will navigate through a sea of misinformation to a future based on what is best in us.
We need courage, we need the truth, we need The Healthy Debate.
A collaboration with Health Freedom Ireland
Presented by Lindie Naughton Irish Journalist
Lindie Naughton is an Irish journalist living in Dublin. She writes regular columns on running and minority sports for the Evening Herald. She also writes for the Irish Garden and Irish Runner magazines and is a judge for the Irish Times Sportswoman of the Year awards.
Lindie has written several books – "Let's Run" (first in 1983; revised edition 2007), "Irish Olympians 1896-1992" (with Johnny Watterson),"How to Mow the Lawn – a Beginner's Guide to Gardening" (New Island, 2003) and "Lady Icarus" (Ashfield Press, 2004), which is the first full biography of pioneering Irish aviator, Lady Mary Heath. In July 2008 came an update of "Irish Olympians" called "Faster, Higher, Stronger – A History of Ireland's Olympians" (Ashfield Press).
Lindie also gives seminars and talks on the art of writing well and on the life and times of Lady Heath – an inspirational Irishwoman – to schools and businesses.
In her spare time, Lindie coaches the throws at Dundrum South Dublin Athletics Club and leads a fun running group. She is a staunch member of Three Rock Orienteering Club as well as a tutor for the Irish Orienteering Association and a keen amateur musician and gardener.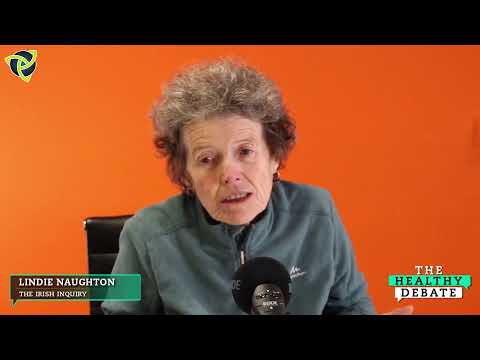 Caption: LIVE NOW... The Healthy Debate Ep.3 - Tonight we'll be talking about masks and the impact that the on-going Covid-19 crisis is having on small businesses. Please share.