Midazolam was used to prematurely end the lives of thousands who you were told had died of Covid-19 and we can prove it

international | crime and justice | feature

Tuesday August 31, 2021 00:52

by 1 of Indy
This was clearly pre-planned murder to generate the death spike needed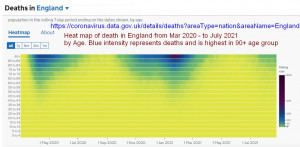 This explosive story from the DailyExpose.co.uk may be perhaps the most important story of the whole sad Covid affair for it explains a lot. Many who quickly saw through this Covid scamdemic were aware that the vast majority of deaths were in older people older than the national life expectancy despite media attempting and succeeding to make people believe much younger people were dying. However there was a real puzzle trying to explain why there was a spike in deaths in April if this was a scam considering in most years the annual spike occurs in mid Winter in January when vitamin D levels are at their lowest.

It now turns out we have the explanation and the evidence. In the UK and in Ireland at the start of the lockdown thousands of old people were booted out of hospital within hours and put into nursing homes where they no longer received the hospital care. Not only that, the UK government recommended the use of the end-of-life drug Midazolam (and used for executions in the US) which should be used with extreme care with old people and anyone with any sort of respiratory problems as it REDUCES breathing. The recommended dosage to use was 10 times higher than the maximum recommended limit for this age group. The DailyExpose also have the figures for the amount of Midazolam used and it matches the "Covid" death spike in April 2020 and the second spike in Jan 2021 which was used to prolong the lockdowns last winter.

In the case of Ireland the question is was Midazolam recommended too or was simply depriving the elderly of the sort of care they were getting in the hospitals and obviously not in the nursing home, enough to do the intended harm.
Original Article: https://dailyexpose.co.uk/2021/08/29/midazolam-was-used-to-prematurely-end-the-lives-of-thousands-who-you-were-told-had-died-of-covid-19/
Related Links: Wayne Smith, the man exposing the Midazolam mass murder care home scandal FOUND DEAD | Irish Doctor resigns from Medical Council after criticising mismanagement of Covid-19 in relation to the handling of nursing homes | Open Letter to Irish Medical Times - Blocking the use of Ivermectin | Covid-19 And The PCR Test – No Pandemic, Only Junk Data! | The Healthy Debate Ep.6 - The treatment of the elderly during Covid
Here are some key extracts from their report but it is advisable to go to the original article and read it in full to get a full understanding of what happened.
They start off their article by presenting statistics from years before Covid on how prevalent pneumonia was as the cause of death in the elderly and has this has remained unchanged during the Covid years despite the government and media pretending it was caused by Covid.
They then move onto Matt Hancock's directive to empty the hospitals of old people within hours followed by a background on what the drug Midazolam is, what it is used for, the known risks and recommendations and how then this was all turned on it's head by the govt and used basically in the UK to murder thousands of old people so as to generate the death spike they needed to justify the lockdowns which were never justified and the fear.
They open with:
In March 2020 the British people were told that they must "stay at home" in order to "protect the NHS" and "save lives". They were also told that the authorities needed just "three weeks to flatten the curve".

.....

But what if we could prove to you that you've given up fifteen months and counting of your life due to a lie? But not just any lie, a lie that has involved prematurely ending the lives of thousands upon thousands of people, who you were told died of Covid-19. A lie that has involved committing one of the greatest crimes against humanity in living memory. A lie that has required three things – fear, your compliance, and a drug known as Midazolam…
And onto pneumonia
We're told that serious illness in Covid-19 presents pneumonia and accompanying respiratory insufficiency. Therefore typical symptoms include breathlessness, cough, weakness and fever. We're also told that people who suffer deteriorating respiratory failure and who do not receive intensive care, develop acute respiratory distress syndrome with severe breathlessness.

.....

Pneumonia is not a new condition that has appeared due to Covid-19. In 2019 alone, the year prior to the alleged emergence of Covid-19, 272,000 people were admitted to hospital with pneumonia. According to the British Lung Foundation in 2012, 345 people per every 100,000 had one or more episodes of pneumonia. This equates to around 225,000 people suffering pneumoni at least once.

The British Lung Foundation also show us that the majority of cases of pneumonia occur in those who are aged 81 and over. For instance in 2012 1,838 people in every 100,000 people over the age of 81 developed pneumonia, this equates to around 60,000 people over the age of 81 in today's numbers based on there being around 3.2 million people over the age of 80 in the UK.
They also tell us that In 2012 there were 28,592 deaths from pneumonia, which equates to 5.1% of all deaths that occurred that year........

.....But for us to prove to you that you given up fifteen months of your life due to a lie that involved prematurely ending the lives of thousands upon thousands of people we first need you to understand which age group has been most affected by Covid-19 according to official statistics.
The above graph is a heat map showing deaths within 28 days of a positive test for SARS-CoV-2 by date of death and age of the person. This data can be seen at the UK Gov's. coronavirus dashboard here. Whats pretty clear from this data is that the most alleged Covid deaths have occurred in people aged 90+. The next age group with the most deaths being 85 – 89, then 80 – 84 and so on and so on. There's a general decrease in the number of deaths up to about the 65-69 age group but then we see a dramatic fall to pretty much zero in anyone aged under about the age of 60.
Then the dumping of the elderly
On the 19th March a directive was sent out to the NHS which required them to discharge all patients who they deemed to not require a hospital bed. They declared that transfers from the ward must happen within one hour of that decision being made to a designated discharge area, and that discharge from hospital should happen within 2 hours. NHS trusts were told that "they must adhere" to the new directive....

..It freed up so many beds that bed occupancy during April – June 2020 was 30% down on the previous year. Why on earth would these people already be in a hospital bed if they did not need to be? You attend hospital because you require medical treatment, not because you want a lie down and a good nights sleep.

This directive meant that people who required medical treatment and attention were discharged into Care homes in the thousands.

But Matt Hancock's abandonment of the elderly and vulnerable didn't end there. Whilst the NHS was busy discharging patients who required medical treatment into care homes under his directive, Matt Hancock and the Department of Health were busy trying to source them all a certain drug known as midazolam.
So what is
Midazolam is a commonly used drug in palliative care and is considered one of the four essential drugs needed for the promotion of quality care in dying patients in the United Kingdom. Think of it as diazepam on steroids.

Midazolam is also a drug that has been used in executions by lethal injection in the USA, combined with two other drugs. Midazolam acts as a sedative to make the prisoner unconscious....

Midazolam can also cause serious or life-threatening breathing problems such as shallow, slowed, or temporarily stopped breathing that may lead to permanent brain injury or death.
Now remember those they dumped out of hospital were elderly and the very group who have a tendency to die of pneumonia and many would already have impaired breathing problems
Midozalam induces significant depression of respiration....

...The same document also provides confirmation that midazolam has the potential to impair the respiration system, particularly in the presence of disease or old age. It clearly states that dosage should be kept to a minimum and shoud be within the manufacturer's guidelines.
And this is the clincher pointing out how the govt guidelines for Midazolam went against the standard clinical use of it
However a policy created for treating patients allegedly suffering anxiety due to Covid-19, which we're told is a respiratory disease, clearly states to treat said patient with a starting dose of 2.5mg of Midazolam, or 1.25mg if the patient is "particularly frail", but to bump this up to 5 – 10mg if the patient is "extremely distressed". Even the starting dose for the particularly frail is 0.25mg higher than the maximum recommended to administer to the elderly or unwell in sedation guidelines.

Who is responsible for making this decision and publishing these guidelines? And why is nobody holding them to account?

Two years worth of Midazolam was purchased in March 2020, however at the same time operations were cancelled for a minimum of three months, therefore Midazolam was not required for use in sedation prior to operations. Guidelines published prior to the alleged pandemic clearly state that Midazolam should be used in extremely low doses in the elderly or unwell, and should be used with extreme caution in those suffering respiratory disease due to side effects which include respiratory depression.
So what they are saying it is generally used across the health system and for operations, yet millions of operations were cancelled and all of this was planned in advance of the lockdown. So why would you order so much of it especially for use with people with breathing problems. It makes no sense unless of course you intended to kill all these people and justify all that followed up to and including vaccines and vaccines "freedom" passports.
Read the full article if in any doubt at the link below. Only some of the graphs have been added here.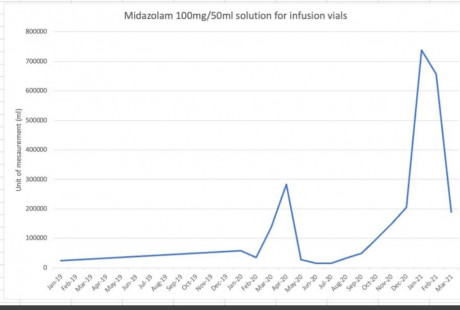 Midazolam usage administered to OAPs correlates strongly with death rate. How to ramp up your "Covid" deaths. Then ramp up PCR cycles on test to generate false positives