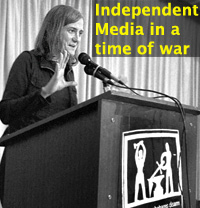 ''We certainly don't have the resources that the major networks have but they left this enormous vacuum as they act simply as a megaphone for those in power and leave out the majority of people in the United States, not to mention the world.... Just after September 11th we began broadcasting on television and the show took off.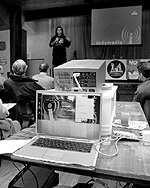 Open Question: How do you make Independent Media sustainable?
Amy asked: 'We have something called Public Access TV in the United States - I don't know if you have it?'
The answer is, not yet - But it's coming and it needs your support. Check out Dublin Community Television: DCTV.ie
Also see NEAR FM community radio.
We went from a couple of dozen community radio stations in the United States to now broadcasting on over 300 Pacifica stations, National Public Radio stations, and we have something called Public Access TV in the United States - I don't know if you have it - .... you can make your own media.... we [the show] on television stations in communities all over the country.... and we have satellite networks - Dish Network and DirectTV and we broadcast on them to independent channels, FreeSpeechTV and also LinkTV.
And then we video and audiostream it on DemocracyNow.org where you can get any program we have ever done - you can watch it or you can listen to it and we put up complete transcripts. We are also making it available to stations all over the world and if any station in Ireland wants to broadcast it - it is available in MP3 format and you are certainly welcome to it and can have it for free.
We believe it is absolutely critical to have an Independent Media offer daily grassroots, independent, unembeded, international news hour - and everyplace we broadcast we then have people responding by saying 'cover this in our community!' and that is what a grassroots international newscast sounds like.
It's based on local voices that deal with global issues.''
Listen to Amy Goodman continue to speak on Iraq, East Timor, Aceh, Haiti, and much more....
• Amy's Speech (MP3 /11.5megs / 34mins)
• Q&A with Amy ( MP3 / 6.2megs / 18mins)