Crowds Gather in Clogherhead

louth | sci-tech | news report

Friday May 18, 2007 18:23

by Sean Crudden - Greenore-Cooley Fisherman's Association

sean.crudden at iol dot ie

Jenkinstown, Dundalk, Co Louth.

087 9739945
The Great and The Good Congregate
The Minister for Communications, Marine, Energy and Natural Resources, Mr Noel Dempsey TD, visited Clogherhead today to perform at 2.30 p.m. the official opening of the refurbished Port Oriel harbour.
The refurbished harbour features a 105m mass concrete quay. "It's storm-proof," an engineer friend of mine asserted. There is also a fine auction shed just to the landward side of the pier and a fine public toilet which I found useful not just for the usual reason but also because it provided shelter from a sudden shower which was quite wetting driven as it was by a strong breeze.

I did not wait for the festivities in the community hall in Clogherhead. Neither did I listen very intently to the speeches nor did I seek out a press-release or any information from Louth County Council - so I cannot comment on value-for-money aspects of the job. However the pier seemed wide, solid and generously proportioned to me. Now if only there were more fish in the sea?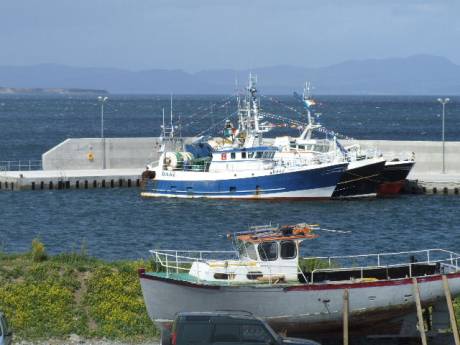 Looking north across the end of the pier The Mountains of Mourne can be distinguished in the distance - and the Cooley hills.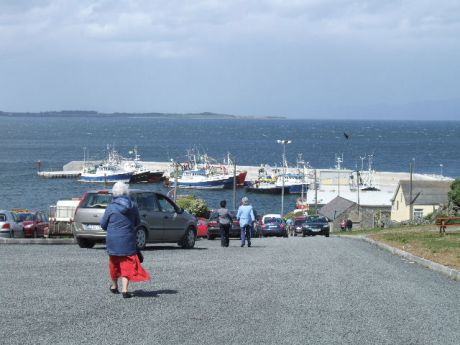 Walking down from the carpark to the pier for the opening.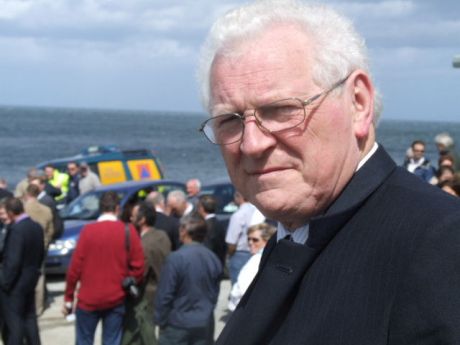 Seamus Kirk TD braves the wind as he waits for proceedings to begin.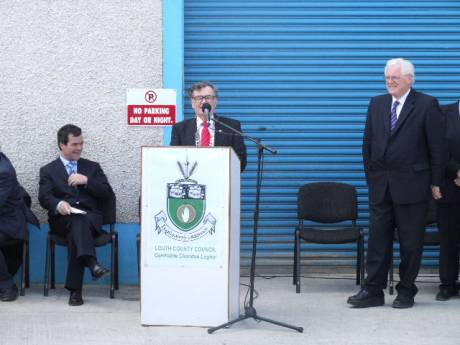 Jim Lennon, chairperson of Louth county council, addresses the multitude.